Download here
Italy confronts its demons with debate over burial of Mussolini
Benito Mussolini
The descendants of Benito Mussolini, Italy's dictator for 20 disastrous years, were locked in tense meetings yesterday as a new argument broke over the fate of Il Duce's remains.
The family were said to be bitterly divided over whether the body should remain in the family tomb in the Adriatic Sea town of Predappio, or moved to a grander location in Rome.
Independent
BNP leader 'said Islam is wicked'
Nick Griffin & Mark Collet
British National Party leader Nick Griffin told a crowd that Islam was a "wicked, vicious faith" a court heard.
Mr Griffin, 47, from mid-Wales, is charged with using words or behaviour intended to stir up racial hatred in Keighley, West Yorkshire, in 2004.
BNP activist Mark Collett, 25, of Leicestershire, also faces four similar charges at Leeds Crown Court.
The charges arose out of speeches filmed by BBC journalist Jason Gwynne for a documentary on the party.
The jury heard Mr Griffin, of Llanerfyl, Powys, urged the gathering to vote BNP to ensure "the British people really realise the evil of what these people have done to our country".
'Cranky lunatics'
Reading excerpts from the speeches, prosecutor Rodney Jameson QC opened the case against the men by telling the court Mr Griffin said white society had turned into a multiracial "hell".
The jury was shown the speeches in which, when referring to Islam, Mr Griffin said: "This wicked, vicious faith has expanded from a handful of cranky lunatics about 1,300 years ago.
"And if you read that book (the Koran), you'll find that that's what they want."
The court heard Mr Collet, of Swithland Lane, Rothley, addressed the gathering at the Reservoir Tavern in Keighley on the same evening.
In his speech Mr Collett accused Asian people of being racist, hating white people, and being responsible for rapes and muggings on white girls and pensioners.
"Let's show these ethnics the door in 2004." he said.
In a second speech at the Crossroads public house in Keighley, Mr Collett said gangs of Asian youths wanted "to wipe out white people" and referred to asylum seekers as "cockroaches".
Mr Jameson said that instead of contributing to a debate on multiculturalism, Collett's speeches were "little more than crude racist rants".
Both men deny the charges against them.
The trial was adjourned until Monday.
BBC News
1,500 migrants arrive in UK daily
Upward trend: More people arriving than leaving
Some 1,500 migrants arrived to live in the UK every day in 2005, according to official estimates.
Government figures suggest 185,000 more people came to live in the UK than emigrated in 2005 - making the population grow by 500 a day.
The total for those arriving was lower than 2004's record, but continues a trend of high levels of migration.
While the number of arriving Eastern European workers grew, the numbers of people leaving the UK has also risen.
In total, 565,000 people arrived in the UK in 2005 saying they intended to stay for at least a year. At the same time, 380,000 people left - 1,000 people a day - more than half of whom were British citizens.
However, after taking into account those who left the UK, the net inflow of people was 17,000 lower than 2004's record figures.
According to the figures released by the Office for National Statistics, the largest single group of immigrants were 121,000 arrivals from "new commonwealth" nations - principally, Pakistan, Bangladesh, India and Sri Lanka.
Eastern European
However, the most striking figures relate to the eight Eastern European nations that joined the European Union in 2004 - 80,000 people from the so-called Accession Eight countries came to the UK for at least a year in 2005, up more than a half on the 52,000 of 2004.
Taking into account those who left, the figures suggest there were 64,000 more people from these nations in the UK than the previous year.
Earlier this year, the government released figures estimating that 600,000 people from Eastern European nations had sought work in the UK since 2004.
While this may seem at complete odds with the latest figures, the 600,000 total represents all those arriving to work for any length of time in the UK, rather than just those saying they intend to come for a year.
The ONS figures suggest that approximately 80,000 people a year are coming from Eastern Europe to live long-term in the UK.
The overwhelming majority were Polish with an estimated 49,000 Poles coming to live in the UK for at least a year in 2005 - three times the number in 2004.
The majority of Eastern Europeans came to work rather than other reasons, such as having married a British citizen or arriving to study, according to analysis.
'Crowded island'
Sir Andrew Green of pressure group Migrationwatch UK, said he believed the current rate of immigration was not sustainable.
ARRIVALS FROM EASTERN EUROPEAN EU STATES
2004: 52,000
2005: 80,000
Figures for migrants who say they intend to stay for at least a year, excludes temporary workers
International migration 2005
"Even at the present rate it's still well above the Government's assumption for the future and that assumption would mean that we had an extra million people every five years," he said.
Danny Sriskandarajah, a migration expert with the Institute for Public Policy Research thinktank, said that the figures should neither surprise nor alarm.
"The challenge for policymakers will be to make the most of increased mobility, not pander to reactionary opinion by trying to curb flows."
Shadow immigration minister Damian Green said: "Without a visible improvement in the government's ability to plan and control immigration, public confidence in the system will remain low."
Of those who left the UK, some 198,000 were British citizens. Asked where they were heading for, a fifth had chosen Australia, followed by groups going to live in Spain and France.
Of the other groups that left, 56,000 were from other parts of the European Union, 40,000 from "old Commonwealth" nations such as Australia and New Zealand, 24,000 from new Commonwealth nations and 62,000 from other places.
The figures are based on surveys of people arriving or leaving at airports. While the method has been criticised in the past for lacking in accuracy, it is the only way the UK currently counts movements of people.
The Home Office has pledged to roll out its "E-Borders" project by 2008 to electronically monitor in greater detail migration movements to and from the UK.
BBC News
Le Pen calls Israel's decision to snub his daughter "inappropriate"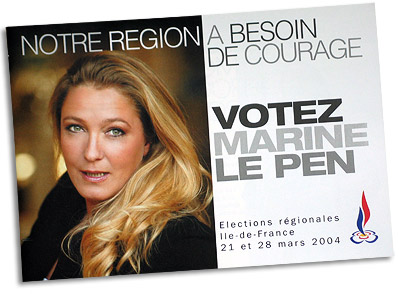 Marine Len Pen
Jean-Marie Le Pen, leader of the French extreme-right Front National party has criticised Israel's refusal to have any contact with his daughter Marine Le Pen during a planned visit of European parliamentarians in the country.
"This decision is inappropriate," Le Pen declared on Friday.
Israel's decision to object to the inclusion of Marine Le Pen in the MEPs delegation prompted the European Parliament in Brussels to postpone the visit officially "for technical reasons that could affect the success of the mission".
A parliamentary source however confirmed it was due to Israel's refusal to accept Le Pen.
The 16-member European Parliament delegation was scheduled to visit Israel and the Palestinian territories between October 28 and November 4.
It was expected to meet Israeli officials, including Prime Minister Ehud Olmert, foreign minister Tzipi Livni and defence minister Amir Peretz.
Racist and Holocaust denier party
In a letter to the European Parliament, Israel's foreign ministry stressed the "sensitivities" regarding contacts with representatives of the extreme-right parties in Europe.
"The delegation contained a senior member (Marine Le Pen) of a political party which, unfortunately, is both racist and a Holocaust denier," Israeli foreign ministry spokesman Mark Regev said.
"For that reason, and although we wanted to receive delegations from the European Parliament, we said that if such a delegation with such a composition would come to Israel they would not receive official meetings," Regev added.
Israeli sources said they could hardly imagine Marine Le Pen at the Yad Vashem Holocaust Memorial in Jerusalem while her father, to whom she is close, has made anti-Semitic statements.
Reacting to Israel's decision, Jean-Marie Le Pen said: «Rejecting the delegation is contrary to our heritage of diplomacy and the most elementary democracy. Furthermore, they (the Israeli government)] didn't even justify their decision."
He accused Patrick Gaubert, a MEP from the French governing UMP party, who heads the anti-racist organisation Licra, of "orchestrating the move".
"I have the impression this is a shady scheme probably initiated by members of the European Parliament, maybe by Mr Patrick Gaubert, president of the Licra, who probably has some relations within the Israeli government," Le Pen said.
"But the decision will probably be debated in Israel. Can a political movement representing millions of voters be banished?" he asked.
EU parliament decision welcomed
Le Pen welcomed the European Parliament's decision to postpone the delegation trip.
"The European Parliament reacted with dignity when it told the country (Israel) it wasn't up to it to designate the members of the delegation. That is the Parliament's role."
The 78-year-old Jean-Marie Le Pen, who caused an upset in France's 2002 presidential election when he finished second, was convicted and fined in 1990 for inciting racial hatred and for saying in 1996 that the gas chambers used by the Nazis were "merely a detail in the history of World War II".
Marine Le Pen, who is seen as the most likely successor of her father, was quoted last week as saying that her planned trip to Israel would be an opportunity to "clear up a certain number of misunderstandings".
Jean-Marie Le Pen, who is the Front National candidate for next year presidential election, believes that he will meet Socialist favourite Ségolène Royal in the second round.
EJP
Le Pen plots surprise after poll boost
Jean-Marie Le Pen
The far-Right leader is benefiting from ghetto violence in the race for the presidency
Aged 78 but bursting for a new fight, Jean-Marie Le Pen, the leader of the far Right in France, yesterday savoured news that shook the main parties in the race for the presidency next spring: he is enjoying a surge of popularity.
A poll by the CSA institute showed that 17 per cent of voters supported the chief of the National Front. This is eight points higher than the same period before the 2002 election, in which M Le Pen shocked Europe by coming second to Jacques Chirac.
M Le Pen, campaigning for the fifth time since 1974, has been insisting that he is heading for a bigger breakthrough than in 2002, when he won nearly 17 per cent of the vote in the first round. He is, he says, benefiting from public anger over immigration, ghetto violence and disgust with politicians.
"I am convinced that I will be in the second round," he said yesterday. "The economic, financial and social position of the country will be much more serious . . . so I will benefit from the rejection of the governing parties." With typical bluster, the one-time paratrooper and 1950s MP told the weekly magazine VSD that he is not just preparing for another run-off — he lost heavily to M Chirac in 2002.
"I want to govern, in order to apply my ideas. Everyone reproached me for talking about immigration . . . now everyone can see that this is the chief cause of the worrying events in our country," he said.
A repeat of the 2002 first-round result is unlikely because of the domination of two reform-minded favourites in their early fifties — Ségolène Royal, of the Socialists, and Nicolas Sarkozy, the leader of the centre-right Union for a Popular Movement. Each is trying to appear tough on law and order and immigration — M Le Pen' s recruiting ground.
The shine is fading from both candidates in the face of opposition from party rivals and M Le Pen is predicting that "Sargolène and Ségozy", as he mockingly calls the duo, will fall before the final round, which will take place next May.
As in 2002, the Socialist candidate may be weakened by a fragmented field from the far Left, but M Le Pen's biggest hope is that M Sarkozy stumbles. The Interior Minister has made inroads into the Le Pen electorate with his harsh rhetoric on illegal immigration and violence. President Chirac is indirectly helping M Le Pen by waging an underground campaign to undermine M Sarkozy, whom he loathes. He is encouraging Dominique de Villepin, the Prime Minister, and Michèle Alliot-Marie, the Defence Minister, to run against M Sarkozy. Both have indicated that they plan to do so.
As usual, the pariah status of M Le Pen has kept him out of the media, while polls have shown his popularity rising. "I am like Zorro," he said. "Everyone knows that I am there but no one sees me."
Renewed violence on the immigrant estates has been playing into the hands of M Le Pen. The spectre of another electoral hijacking has woken up the media this week as opinion polls reported support rising from 12 per cent to the higher teens.
Stéphane Rozès, director of CSA, which carried out yesterday's poll for the newspaper Le Figaro, said that only one third of those saying that they would vote for M Le Pen represented extreme-right supporters. The rest were hardline conservatives and disillusioned voters who would vote in protest against the mainstream.
London Times
Far-right all set to gain more power in EU legislature
European Parliament
The far-right is set to increase its clout in the European Parliament when Romania and Bulgaria join the bloc in January.
After years of unsuccessful negotiations, an agreement with nationalist parties from the EU's two newcomers has opened the way for the first extreme-right parliamentary group to be formed on November 14, parliamentary sources said yesterday.
The deal will give Eurosceptical, anti-immigration deputies more speaking time, more committee seats and more money. They vow to use it to oppose the EU's stalled constitution and campaign against Turkey's membership bid.
"It looks like they have the numbers to form what will be an ultra-right political group and the announcement will be in the next plenary (session)," one source said. "They have the backing of like-minded parties in Romania and Bulgaria and this is the catalyst they were waiting for."
While most of the parties involved are in opposition in their home countries, the League of Polish Families, part of Warsaw's ruling coalition, has agreed to join, the source said.
Talks have been led by Belgium's Vlaams Belang (Flemish Interest) party and France's Front National with others expected to come from parties in Italy (the Northern League and the National Alliance), Austria (the Alliance for Austria's Future) and the Czech Republic (the Association of Czech Independents).
The move follows a string of election successes across Europe reflecting concerns about immigration and EU enlargement.
The 732-member assembly, which sits in Brussels and the French city of Strasbourg, is made up of seven political groups and 36 unattached members, including far-right politicians.
The groups control the EU legislature's agenda, voting pacts, speaking time and the make-up of powerful parliamentary committees, where much of the work is done.
By forming their own group, Europe's far-right parties will gain more say. The group will also be entitled to EU funding worth about 50,000 euros ($63,470) per member.
One negotiator declined to give a date for the announcement but said "it is more likely than ever before to happen".
"We have had successful talks with our Romanian colleagues and we continue to talk with the Bulgarians who may be coming into the parliament," Philip Claeys of Vlaams Belang said.
"We will seek increased national sovereignty, a moratorium on immigration, particularly from Muslim countries," he said.
The brokers of the deal are talking to the Greater Romania Party and the ultranationalist New Generation Party. Bulgaria's Attack party is also involved in the discussions.
Gulf Times
Estonia's Jews set to open new synagogue in early 2007
House of Hell in Tallinn Estonia
The construction of Estonia's first synagogue since World War II is running behind schedule but the Baltic nation's tiny Jewish community hopes it will be opened in February, a spokesman said Thursday.
"It is almost finished," the community's spokesman, Rabbi Shmuel Kot, told The Associated Press.
Tallinn's last synagogue was built in 1882 but was destroyed in 1944 in air raids as Nazi Germany's troops fled the Soviet Red Army's advance.
Some 3,000 Jews live in Estonia, a country of 1.3 million. Most reside in Tallinn.
Construction of the ultramodern 200-seat synagogue started in 2005 in downtown Tallinn next to the Estonian Jewish Community center and school. The total cost is estimated at some 24 million kroons (€1.5 million, $US2 million), and financed mainly by donations.
The opening had originally been scheduled for this month, but was delayed because of the challenging structure of the building, Kot said.
"I believe it will be one of the nicest synagogues in Europe," Kot said. "After 60 years without a synagogue in this country, it's a big thing not only for Estonia and Jews, but for all of Europe."
In addition to religious services, the synagogue will also prepare and distribute kosher foods in a restaurant and will house a museum on the history of Jews in Estonia.
Before World War II, more than 4,300 Jews lived in Estonia, but the Soviet occupation in 1940 led to the abrupt end of the Jewish cultural autonomy, and hundreds of Jews were deported.
When the Nazis invaded in 1941, hundreds of Jews were sent to concentration camps. The Nazis also deported thousands of Jews to Estonia from several European countries, and "killed" there.
CJP
Tube workers cleared of 'Jelly Baby racism' after £250,000 trial
'Jelly Baby racism'
Two London Underground workers charged with racial harassment after they joked about a bag of Jelly Babies have branded their £250,000 trial a farce after they were cleared.
Carlo Rozza and Victor Cooney denied taunting black colleague Daniel Jean-Marie with a bag of Jelly Babies.
They were accused of making jokes about black Jelly Babies and threatening to bite off their heads.
But they were cleared after an eight-day trial at Middlesex Guildhall Crown Court and Mr Cooney, 47, said the verdict was a "victory for common sense".
The father-of-two said: "The trial has been a complete farce. Two-anda-half years of my life has been wasted. I've worked at London Underground for 28 years and I've never had a complaint in that time.
"The trial has screwed up my marriage as I didn't pay enough attention to my wife, though thankfully we are still together. All for a row over Jelly Babies."
He added: "The verdict is a victory for common sense. This sort of trial should not even be taking place. It's a complete waste of taxpayers money."
In a statement read out in court, Mr Cooney said racial banter had been commonplace between him and Mr Jean-Marie.
Mr Cooney said: "Daniel and I have always got on very well with each other, and there's been a lot of racial banter. Daniel has pointed me out to his friends as being racist. He said to me, 'Are you reading another Adolf Hitler book?' It's just messing around, joking.
"One time I gave Daniel a bag of Jelly Babies three or four years ago and Daniel called me a racist because there was too many black Jelly Babies in the bag."
When asked by a police officer to whom he gave his statement: "Did you say anything about Jelly Babies? Anything about cutting their heads off? Anything about black or lime Jelly Babies that could have been misconstrued?", Mr Cooney replied no each time.
He added: "I made no reference to cutting Jelly Babies' heads off. It's nonsense, it's a joke. Carlo knew about this ongoing joke between me and Daniel, he just jumped on the bandwagon."
During the trial Mr Rozza, 45, told the court how in January 2004 at Caledonian Road tube station he had walked into a staffroom to find Mr Cooney and Mr Jean-Marie engaging in banter.
He said: "I think they were joking about Jelly Babies. Eventually I became involved and asked Vic for a Jelly Baby."
His lawyer David Barnes asked: "Any particular colour?" to which Mr Rozza replied: "I asked him for black Jelly Babies".
He added: "Mr Jean-Marie became angry, stormed out of the room and told Rozza to 'F**k off'."
After a complaint was made the pair were suspended, Mr Cooney for three months and Mr Rozza for eight months, but returned to work after they were cleared following an internal investigation.
The men, who both received Legal Aid, wept as they were cleared of racial harassment. The jury took just one hour to find the colleagues not guilty.
A spokesman for the Crown Prosecution Service said: "This was a serious allegation. We respect fully the verdict of the jury."
Daily Mail
Most Germans Dissatisfied with Their Democracy, Survey Shows
Most Germans Unhappy
Most Germans Dissatisfied with Their Democracy, Survey Shows
Despite an economy which is finally coming out of the doldrums, over half of all Germans are dissatisfied with the country's democracy, a new survey shows.
DDP
Germans are unhappy with democracy, a new survey shows.
The news on the economic front in Germany could hardly be better: unemployment below 10 percent for the first time in four years, unexpected tax revenue surpluses to be spent, and an economy growing faster than expected. You might expect the Germans to be content with their lot.
But, while Germans might be looking forward to the prospect of a bit more money in their pocket, they are less than thrilled about how the country is being run. According to a new survey, a majority of Germans say they are dissatisfied with the way democracy functions in Germany -- a surprising result for a country which is one of the pillars of the European Union and is widely regarded as a model of democracy and civil society.
In a survey released on Thursday evening by the German public television station ARD, 51 percent of the 1,500 people surveyed answered negatively to the question, "Are you satisfied with how democracy functions in Germany?" It's the lowest result since the station began asking the question in 1997.
As recently as September 2005, 60 percent said they were satisfied with democracy in Germany. Now, it's only 49 percent -- a drop of 11 percentage points.
Similarly, the number of Germans who say that the situation in the country is "unjust" continues to rise. Only 27 percent regard the current situation in Germany as "just", with 66 percent disagreeing. It is a significant change since May, when only 57 percent felt the situation was "unjust".
The results confirm findings released by the University of Leipzig this summer. A study there found that only 27 percent of eastern Germans were satisfied with how democracy functions in Germany. In western Germany, every second person surveyed answered in the affirmative. Trust in political parties in the country is at a new low, the Leipzig psychologist Elmar Brähler commented at the time.
ARD's new survey also puts Germany well below the European average when it comes to satisfaction with democracy. An EU poll this spring found that, on average, 56 percent of Europeans were happy with their system of governance. Denmark led the pack with 93 percent while Croatia and Bulgaria tied for last place with a mere 22 percent each. Most countries with above average levels of satisfaction were in Western Europe, while the populations of formerly communist Eastern European countries tended to have below average levels of satisfaction -- suggesting that they are not as grateful for having traded totalitarianism for democracy as might have been expected.
The erosion of faith in democracy is nothing new, however. Oscar Gabriel, a professor at the University of Stuttgart, has observed the process for the last decade and a half. He has found that there has been a tendency for residents of the former East Germany to lose faith in democracy since the fall of the Wall. In the West, faith in democracy has climbed slightly during the same period, however... <Cont>
Cont Spiegal Online